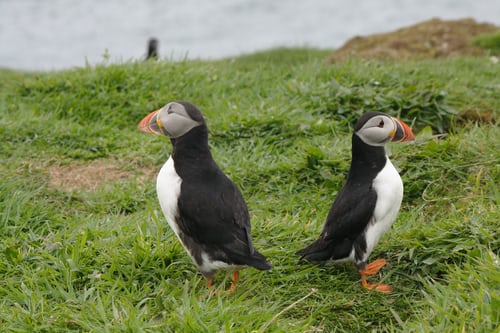 Animal Sounds
You might have heard the dogs when they are barking or growling or snarling.  Have you ever heard when the elephant trumpets or roars, jackals howl, grasshopper chirps, magpies chatter and parrots screech???
Here, in this article, you are going to learn about animal sounds or cries. 
The following animal sounds list includes different words that indicate interesting sounds made by different animals, birds, insects and other things.
| | | |
| --- | --- | --- |
| Sl.No. | Name of the Animals and Birds  | Sounds that they make |
| 01 | Alligators | bellow, hiss |
| 02 | Antelopes | snort |
| 03 | Apes | gibber |
| 04 | Asses | bray |
| 05 | Babies | lisp |
| 06 | Badgers | growl |
| 07 | Bats | screech |
| 08 | Bears | growl |
| 09 | Bees | buzz, hum, murmur |
| 10 | Beetles | drone |
| 11 | Bitterns | boom |
| 12 | Birds | carol, chirp, chirrup, sing, twitter, warble |
| 13 | Camels | grunt |
| 14 | Calfs | bawl |
| 15 | Cats | meow, purr, hiss, mew, yowl |
| 16 | Cattle | low, moo, |
| 17 | Chicks | cheep |
| 18 | Chickens | cluck, cackle |
| 19 | Cocks | crow |
| 20 | Cows | low, moo |
| 21 | Crickets | chirp, creak |
| 22 | Crocodiles | grunt |
| 23 | Crows | caw |
| 24 | Cuckoos | coo |
| 25 | Deers | bell |
| 26 | Dogs | bark, bay, growl, howl, snarl, yelp |
| 27 | Dolphins | click |
| 28 | Donkeys | bray |
| 29 | Doves | coo |
| 30 | Ducks | quack |
| 31 | Eagles | scream |
| 32 | Elephants | trumpet, roar |
| 33 | Flies | buzz, hum |
| 34 | Foxes | bark, yelp |
| 35 | Frogs | croak |
| 36 | Giraffes | bleat |
| 37 | Geese | cackle, gobble, hiss |
| 38 | Goats | bleat |
| 39 | Grasshoppers | chirp |
| 40 | Guinea pigs | squeak |
| 41 | Hamsters | squeak |
| 42 | Hares | squeak |
| 43 | Hawks | scream |
| 44 | Hens | crackle, chuckle, cluck |
| 45 | Hippopotamuses | squeak |
| 46 | Hogs | grunt |
| 47 | Horses | neigh, snort, whinny |
| 48 | Hounds | bay |
| 49 | Humans | whisper, whistle, cry scream, sing, talk |
| 50 | Hummingbirds | hum |
| 51 | Hyenas | laugh, scream |
| 52 | Jackals | howl |
| 53 | Jaguars | roar |
| 54 | Kangaroos | chortle |
| 55 | Kittens | mew |
| 56 | Lambs | bleat |
| 57 | Larks | sing, warble |
| 58 | Lions | roar |
| 59 | Linnets | chuckle |
| 60 | Magpies | chatter |
| 61 | Mice | squeak |
| 62 | Monkeys | chatter, gibber, screech |
| 63 | Mosquitoes | whine |
| 64 | Nightingales | sing, warble, pipe |
| 65 | Ostriches | chirp, bark, hiss, low hum |
| 66 | Owls  | hoot, scream, screech, shriek |
| 67 | Oxen (Bulls) | low, bellow |
| 68 | Parrots | chatter, screech, talk |
| 69 | Pea-fowls / Pea-cock | scream |
| 70 | Pigeons | coo |
| 71 | Pigs | grunt, squeal |
| 72 | Puppies | yelp |
| 73 | Rabbits | squeal |
| 74 | Rats | squeak |
| 75 | Ravens | croak |
| 76 | Rhinoceros | bellow |
| 77 | Rooks | caw |
| 78 | Rooster | crow |
| 79 | Sea-gulls | scream |
| 80 | Seals | bark |
| 81 | Serpents | hiss |
| 82 | Sheep | bleat |
| 83 | Snakes | hiss |
| 84 | Sparrows | chirp, twitter |
| 85 | Squirrels | squeak |
| 86 | Swans | cry |
| 87 | Swallows | twitter |
| 88 | Thrushes | whistle |
| 89 | Tigers | growl, roar |
| 90 | Tortoises | grunt |
| 91 | Turkeys | gobble |
| 92 | Vultures | scream |
| 93 | Whales | sing |
| 94 | Wolves | howl, yelp |
| 95 | Zebras | whinny |
| | Names of the Things or Objects | Sounds that they make |
| 96 | Arms | clang |
| 97 | Bells | chime, jingle, peal, ring, tinkle, toll |
| 98 | Brakes | rasp, screech |
| 99 | Bugles | blow |
| 100 | Bullets | whizz |
| 101 | Bulls | bellow |
| 102 | Chains | clank |
| 103 | Coins | jingle, tinkle |
| 104 | Doors | creak |
| 105 | Drums | beat |
| 106 | Footsteps | sound |
| 107 | Guns | boom, roar, explode |
| 108 | Hoofs | clatter |
| 109 | Keys | jingle |
| 110 | Leaves | rustle |
| 111 | Railway engines | hoot, roar, whistle |
| 112 | Rain | patter |
| 113 | Reeds | whisper |
| 114 | Shoes | creak |
| 115 | Steel | clinks |
| 116 | Streams | babble |
| 117 | Teeth | chatter |
| 118 | The wind | whistles, sighs |
| 119 | Thunder | roars, rolls, rumbles |
| 120 | Trumpets | blare |
| 121 | Water | ripples |
Related Posts: