.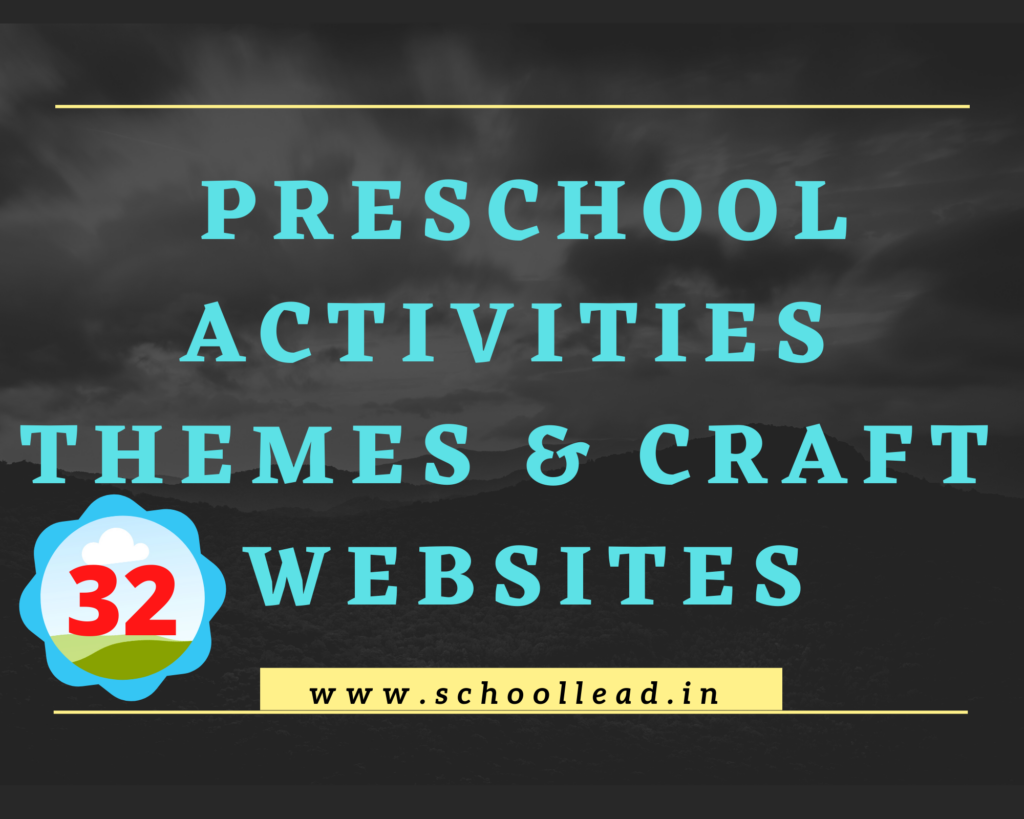 Worksheets For Kindergarten
In this article, you find 32 wonderful websites that provide worksheets for kindergarten free printables. These kindergarten/preschool activities include the worksheets on themes, colouring, craft, games and lesson plans in all the prescribed subjects.  These can be downloadable and customizable as per the requirement by the teachers or parents.
You can also read:
First-School features free fun worksheets for kindergarten, educational early childhood activities, printable crafts, worksheets, calendar of events and other resources for children of preschool age. They are printable. The preschool crafts, lesson plans and activities are appropriate and adaptable for toddlers, preschoolers and kindergarten levels (ages 2 to 6).
Here every effort is made to try to keep the learning fun and playful. Most of the games or crafts with learning concepts hidden within them. Your kids will be having fun. So you can feel good about the learning that is taking place. 
This blog is helpful and provides worksheets for kindergarten free printable to the busy Pre-K and Kindergarten teachers to plan effective and engaging centers, to create a playful learning environment, and to gain confidence in the classroom.
Housing A Forest is packed with full of preschool art tutorials, educational activities and good old fashioned fun your kids will love. Here you can also find excellent kids' projects which ignite creativity.
Here you can find lots of ideas to help you engage the preschool kids in a fun way.  These printable activities include art and craft. math, dramatic plays. It even provides preschool themes.
You can gain unlimited access to our Kids Soup Resource Library member site. It provides more than 10,000 printable activities and resources for preschool and kindergarten.
At Gift of Curiosity, you find preschool activities free printables and hands-on crafts work that spark the children's curiosity, creativity and learning.
This site provides:
easy to make crafts for preschool kids.

original detailed preschool activities free printables like coloring pages for you and your kids.

simple recipes that will entertain your kiddos and impress your family (without much effort on your end).

printables – either for kids or decorations to liven up your home.

and more, naturally.
Here you find thousands of colouring pages, kids crafts, educational resources, puzzles, worksheets for kindergarten, sudoku for kids and lots more preschool activities free printable! It helps the preschool/kindergarten kids and teachers with the resources that can be printable.
This Artsy Crafty Mom blog shares worksheets for kindergarten the ideas, information, and inspiration to encourage the kids to enjoy various printable art & craft activities. Posts are regularly updated on kids' art ideas, seasonal crafts, and family fun activities.
Pre-K Pages is highly helpful to the teachers to teach better by saving time. It provides everything the teachers need to create a fun and engaging learning environment, lesson plans, and printable activities for the preschool little learners. 
This site provides:
EASY and FUN kid-friendly arts and crafts

Unique Ideas as well as Tried-and-True Favorites

Useful Resources with hundreds of art activities to engage the children learning day after day
We Are Teachers is an online media brand for educators committed to one of the toughest, most rewarding jobs out there. It inspires the teachers and helps them succeed by sharing practical classroom ideas, the best freebies and giveaways, and teacher-to-teacher advice and humor.
This site includes activities like play and science, where children can learn lessons in a play-way method with fun and excitement.
Here, it provides a preschool curriculum for four different age groups of children:
 Preschool Curriculum  Ages 2.5 to 6 Years
Toddler Curriculum  Ages 18 Months – 2.5 Years
Young Toddler Curriculum    Ages 12 – 18 Months
Infant Curriculum  Ages 1 – 12 Months
It is 15.00 per month as a download or 25.00 per month on a CD per age group.
You will receive 4 weeks of daily lesson plans, 4 printable calendars, 4 printable paper sized posters, plus all the printable pages needed for each month purchased.
Kids Craft Room offers inspirational art and craft ideas to enjoy with children throughout the year. Mostly the activities provided here are child-centered activities to promote a more hands-on, fun and free-range childhood.
This website provides numerous worksheets for kindergarten, color pages, hidden pictures, mazes, and dot to dot pictures available for free. It also includes more than 1000 craft ideas which are highly helpful to the children to sharpen their artistic skills.
This site is a perfect platform for kids to practice their artistic skills. It has various blank comic book pages like  "Finish This Comic!" comics and drawing/writing prompts to get your child's brain moving creatively.
This site makes a ton of coloring pages available for free downloads. Here, a lot of printables are provided related to plants, animals, places, popular TV characters, words and letters, Disney characters and more.
Here the activities are "created by teachers for teachers and parents." On this site,  you will find an extensive inventory of quality and affordable teaching materials, school supplies, free lessons, and much more. It offers special discounts and free gifts throughout the year.
Teach Starter creates brilliant teaching resources that save teachers hours each week preparing for the classroom. Hundreds of thousands of teachers around the world rely on Teach Starter to help engage their students and make their classrooms buzz!
One of the most popular blogs providing craft activities to the toddlers.
It is a wonderful blog and provides DIY Projects, Needle Crafts, Paper Crafts, Kids' Crafts, Hobbies and Beadwork.
The Adobe Coloring Book features unmatching illustrations from incredible artists each week with themes like animals, outer space, and more. 
Get instant access to a wide variety of free educational resources for teachers, home school families, and parents. Ready to print, these free materials make it easy for you to download and use immediately! Choose from reading, language arts, math, social studies, science, and more!
Disney is a world-famous brand for kids that offers a wide range of colouring pages on different topics. Besides this, it also provides very useful programmes like starwarkids, games and other videos.
This site includes a broad range of coloring activities and worksheets for kindergarten.  These are a fun and relaxing activity for not only the kids but for the entire family.  You can select from a wide variety of free downloadable coloring pages for your kids. Start coloring today! 
It provides fantastic things that the children can't stop using them.  A wide range of activities including games, videos, create beautiful coloring pages and music is made available.
This hub is filled with videos, playful learning and colouring activities, and ways to help families stay physically and mentally healthy. The Sesame Street Muppets are staying home, but they connect with friends online—and each week because it will post new videos, like Singalong with Elmo or Snack Time with Cookie Monster. 
This site provides learning resources in over 20 countries and six continents. We find thousands of teacher-crafted learning activities that sync up with the school year.
Art Projects for Kids is a collection of fun and easy art projects that include hundreds of how to draw tutorials.
This includes very helpful preschool activities like virtual celebrations, colour & craft, window, wall or door decorations which are all printable.