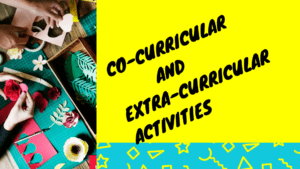 Co-Curricular Activities
Here in this article, you will find the importance of Co-curricular Activities and at the same time, an attempt is made to distinguish these activities from Extra-Curricular Activities.
The core aim of education is to focus on the holistic development of a child. The extent of a child's learning needs to be comprehensive. Education plays a very significant role in moulding the child morally, mentally and socially strong and lays stress on character building. 
We need a curriculum that develops the child in all areas i.e., mental, physical, emotional, aesthetic, spiritual, social, vocational, etc. This all-round personality development or holistic development of an individual is only possible through a balanced and integrated emphasis on curricular and co-curricular areas of education which also enriches, broadens and enhances the learning experiences of children. 
Introduction to Co-Curricular Activities:
Curriculum refers to the course of study that is followed in a particular environment of the classroom, laboratory, or library.  Whereas Co-Curricular Activities (often referred to as Co-Scholastic Activities by the CBSE Board) are those which are undertaken outside of the classroom instructional work. 
These activities reinforce and complement the entire teaching-learning process and prepare the children in the Art of Living and Working Together. These activities are a part and parcel of the curricular programme as the children are exposed to the practical learning experience of what they learn in the classroom theoretically. This is a perfect example of 'Learning by Doing'.
Importance of Co-Curricular Activities:
Co-Curricular Activities are an integral part of the school curricular programme which reinforces the formal course of study learned in the classroom and contribute to the holistic development of the children. These activities help in the realization of the aims and objectives of education. These activities expose the children to the community and social life and thus create a direct pathway to the real world.  Co-curricular activities allow children to learn a variety of skills, many of which they will carry with them for life. These activities significantly help and encourage the children
To get rid of stage fear and become public speakers

To lead the peer group and develop the leadership qualities

To develop a decisive mindset and be able to make the right decisions timely

To realize the sense of responsibility and leads a committed life in the community

To involve in collaborative projects and develop team spirit

To get the ability to motivate others

To also develop intellectual aspects of personality like aesthetic development, character building, spiritual growth, moral values, creativity etc.

To be aware of Life Skills like Thinking Skills, Social Skills and Emotional Skills
 They also build confidence in children and make them ready to face any kind of future challenges. Through these activities, the children will also be able to learn the important aspects of Life Skills, Attitudes and Values and Health and Physical Education.
Definitions of Co-Curricular Activities:
1.    "Activities sponsored or recognized by a school or college, which are not part of the academic curriculum but are acknowledged to be an essential part of the life of an educational institution. Co-curricular activities include sports, school bands, student newspapers etc.  They may also be classed as 'extra-curricular', i.e., activities carried on outside of the regular course of study; activities outside the usual duties of a job, as extra-class activities."  –The International Dictionary of Education (1977)  
2.    "Co-curricular activities were mainly organized after school hours and so were the extra-curricular but they are not an integral part of the activities of the school as its curricular work"-      Aggarwal (2000).
3.    "Co-curricular activities may be defined as the activities undertaken to strengthen the classroom learning as well as other activities both inside and outside the classroom to develop the personality of the child"-   Bhatia (1996).
Impact of Co-Curricular Activities on the children:
The Modern concept of curriculum is vividly broader than that of the past and the present teaching-learning methods have to prepare the children to meet with the challenges of the future. Co-curricular activities play a very significant role in the all-round personality development of children. These activities have become invariable with the advent of CCE pedagogy whereby the children will get true and practical experiences and achieve curricular objectives with a higher score.  Truly speaking, the theoretical knowledge gets strengthened with the effective supplement of relevant co-curricular activity. The results of the research also show that the students who participate in co-curricular activities behave differently from those who don't participate in these activities. These activities provide a chance for children to utilize their potential. The children who take part in certain activities like sports will surely develop sportsman spirit and a sense of justice and it is an opportunity of practice not only in the playground but also in social and real-life situations.
Role of a teacher In-charge
The effective implementation of the co-curricular activities largely depends on the Teacher-In-Charge.  Unlike the regular academic instructional process which goes on monotonously, these activities require a ton of new ideas, creativity, and interest in research, proper planning and the ability to execute timely.  Besides this, the In-charge should be able to motivate the children to take part in the activities, communicate the parents well in advance, coordinate the fellow teachers to extend their involvement and finally should hold the responsibility for the overall completion of the activity. The In-charge should have abundant patience in engaging these activities as several difficulties may be expected while implementing. Possessed by an attitude do it first and forget the rest he/she should try to leave no stone unturned for the final successful accomplishment.
The role of the school to implement Co-Curricular Activities:
The management or the head of the institutions have a pivotal role to play in implementing these activities They should realize that the academic life of the child is incomplete without co-curricular activities.  These activities should not be neglected when they plan for the academic programme at the very threshold of the academic year. These activities are to be given equal importance and interlinked with the academic programme for year long.  The institution should appoint an in-charge to execute the co-curricular programme regularly. These activities are to be planned during school hours so that no child would miss them. The management should not hesitate to provide needed infra and material.  Initially, this may require some amount of investment and time but executing these activities in the school will have instant positive results and success which will add to the reputation of the institution. Nowadays parents encourage the children to participate in these activities and extend their support to the institution. Children should be allowed to select the activities based on their own interests and personality rather than the ones they are persuaded to do by their parents or teachers.
What are the Extra-Curricular Activities?
The phrase Extra-Curricular Activities is sometimes referred to as Co-Curricular Activities.  But the term itself clearly suggests that it is something that is 'additional or 'auxiliary'. Extra-curricular activities refer to those activities which are totally outside the realm of the normal curriculum, but they may be an essential part of the development of the students.
Co-Curricular activities are for the support of the curricular programme and closely related to it, whereas the Extra-Curricular Activities are for the support of all-round development of the children and are not directly related to the academic programme.
Definition of Extra-Curricular Activities:
"Various social and other types of activities like literary, dramatic, social services etc. which attracted the attention of the child were considered as extracurricular activities.  Extracurricular activities have been renamed by educationists as co-curricular, which implies that all these activities are a part of the school curriculum".- Mittal (1999)
At a Glance…,
Let us have a quick glance at the phrases we often get confused with i.e., curricular, co-curricular, extra-curricular, beyond-curricular, scholastic, co-scholastic…,
Curricular                    –       Academic or Scholastic
Co-Curricular               –      Co-Academic or Co-Scholastic (in addition to)
Extra-Curricular          –      Extra-Academic (Additionally)
Beyond-Curricular      –      Other than Co-Curricular.., like Talent Tests or Competitive Exams
Scholastic                    –      Academic
Co-Scholastic               –     Co-Academic
The distinction between Co-curricular and Extra-Curricular Activities:
              Co-Curricular
           Extra-Curricular

Co-curricular activities supplement and complement the entire teaching-learning process and effectively impact the student learning outcomes.

Extra-curricular activities indicate the works the children do beyond their academic areas.  




These out of the class activities enlighten all domains of life such as character enrichment, cultural, spiritual and physical growth.

These activities strengthen the classroom instructional process and help the children to understand the concept of topics clearly.

These activities emphasize upon inculcating the values of co-operation and prepare the children for future leadership.

With the help of these activities, the children will be able to express their ideas freely due to active participation in debates, extempore, group discussions and other workshops.  

These activities help in the realization of the aims and objectives of education in practical life.  

These activities keep more focus on cognitive aspects which help in the intellectual development of the children.

With the help of these activities, the children will be able to participate in several physical activities like sports and games and learn a collaborative approach and sportsmanship.

With the help of these activities, the children will develop problem-solving skills, attitudes that are positive and conducive to learning, respecting teachers and are helpful to them.

They make the children mentally and physically fit and sound and give them a joyous and pleasant experience.

These activities are also helpful to the children to take criticism in the right spirit and show respect to others and maintain courtesy all times.

In many extra-curricular activities, children have to perform in groups, and this enables a team spirit and a sense of belongingness.

Examples of Co-Curricular activities  
Examples of Extra-Curricular activities

Seminars and workshops,

Subject-wise quizzes,

Debates and discussions,

Recitation and Story-writing,

Literary/Science/Maths clubs,

Organizing Extension Lectures,

Essay-writing Competition etc.,

cultural activities like dance and dramas,

health and physical activities like community work and games and sports,

tours and hobbies like visiting historical places  and collecting stamps, coins and flags etc.,  
Finally, let me conclude that though we find some differences between these two types of activities, there is no big world of contrast. The line of difference drawn between these two is very thin.  However we find and understand the differences, ultimately these two phrases are used almost for the same purpose. These phrases are going undivided hand in hand and the activities are mostly amalgamated.
The Central Board of Secondary Education (CBSE) has made these activities mandatory using the term Co-Scholastic Activities putting all these terms together. 
Co-Scholastic Activities click here 
List of Co-Curricular Activities for the Higher Classes
There are various types of co-curricular activities that may be conducted in the schools.    They have been divided into 9 categories
I. Activities for Literary and Academic Development 
01. Seminars and workshops/Lab Activities
02. Organizing Extension Lectures
03. Library Work
04. Symposium
05. Newspaper Reading
06. Literary/Mathematics Clubs /Science Fairs
07. School Magazine
08. Classroom Decoration
09. Preparation of Charts/Models
10. Language Competitions like
Quiz

Drama/Skit

Elocution

Extempore

Pick and Speak

Debate

Essay Writing

Readers Theatre

Poems Recitation

Text Reading etc.

Articles writing

Poster Making

Spell Bee

Calligraphy
11. Participation in Morning Assembly
II. Activities for Civic Development 
01. Visits to Civic Institutions like the Gram Panchayat, Zilla Parishad, Municipality Office, Legislative Assembly, High Court etc
02. Celebrating Social Festivals.., Diwali, Holi, Rakhi, Vasanth Panchami Ganesh Chaturthi etc.,
03. Celebrating Religious Festivals like Ram Navami, Janmashtami, Id, Ramzan  Buddha Jayanti, Mahavir Jayanti, Christmas
04. Celebrating National days i.e., Independence Day/Republic Day
05. Celebrating Children's Day
06. Celebrating Self-Governing Day/Teachers' Day
07. Conducting Mock Parliament/Mock Assembly/ Mock Court/Mock United Nations
08. Celebrating School Annual Days/ Sports Day/ Parents' or Grand Parents' Day
09. Conducting School General Elections and Celebrating Investiture Ceremony
10. Celebrating National/International Days /Event
11. Celebrating Great People's Birthdays
12. Celebrating Festivals
III. Activities for Aesthetic and Cultural Development
01. Music
02. Dance
03. Drawing
04. Painting
05. Craft
06. Origami
07. Album Making
08. Organizing Exhibitions
09. Fancy Dress Show
10. Greeting Card/Rakhi Making
11. Sculpture
12. Flower Festival
13. Collage Making
IV. Activities for Physical Development
01. Mass Parade/Mass Drill/March Past
02. Indoor Games
03. Outdoor Games/Sports
04. Gardening
05. N.C.C. /N.S.S.
06. Yoga and Aerobics
07. Athletics
08. Bicycling
09. Swimming
10. Trekking
11. March past
12. School Band
V. Activities for Leisure (Hobbies)
 01. Collection of Stamps (Philately)
 02. Collection of flags (Vexillology)
03. Collection of Coins (Numismatics)
04. Collection of Pictures/News Items
05. Making of Albums
06. Photography
07. Cooking
VI. Activities for Motor Development (Craft Activities)
01. Spinning
02. Weaving
03. Dyeing
04. Embroidery
05. Tailoring 
06. Knitting
07. Book-Binding 
08. Clay Modelling
09. Toy Making 
10. Flower Gardening
11. Soap/Candle Making 
12. Leather Work
13. Basket Making
VII. Tour/Excursion Activities
01. Picnics/Excursions
02. Hikes/ Walking Tour
03. Visits to Museum, Exhibition, Zoo, Fair, Universities etc.
04. Trips to places of Geographical, Historical or Cultural Interest
05. Pilgrimage to Religious Places
VIII. Social Welfare Activities
01. Scouts and Guides/NSS
02. Cleanliness Week/ Swachh Bharat
03. First Aid 
04. Red Cross
05. Social Service/Community work in the Neighborhood
06. Health Awareness Programme – Sound Mind and Healthy Body/ Food & Nutrition
07. Environmental Awareness Programme – Go Green
IX. Multipurpose Activities (Projects)
01. Beautifying the School, School Decoration
02. Village Survey/ City Survey
03. Running a Dispensary in the School or in the Village
04. Running a Post Office
05. Running a Co-operative Bank (Sanchayika) or a Canteen 
06. Encouraging the students to participate in Talent Tests and Olympiads
Types of Co-Curricular Activities for Primary Classes
| | |
| --- | --- |
| Language Activities | Festivals/Events Celebrations |
| Story/Conversation/Speech | Vasanth Panchami |
| Pick and Speak/ Show and Tell | Diwali,/Anti Cracker Campaign |
| Songs/Rhymes | Holi, |
| Poems Recitation | Rakhi |
| Text Reading | Sri Ram Navami, |
| Quiz, | Sri Krishna Janmashtami, |
| Drama/Skit/Fairy Tales | Id, Ramzan |
| Essay Writing, | Buddha Jayanti, |
| Readers Theatre, | Mahavir Jayanti, |
| Poems Recitation, | Christmas |
| Poster Making | Our Great National Leaders |
| Collage Making | Vanamahotsav/Save Our Environment |
| Spell Bee | Teachers' Day |
| Calligraphy/Handwriting Activity | Children's Day |
| Debate | Independence Day |
| Creative Writing | Republic Day |
| Group Discussion/Model Interview | Maths Day/Science Fair |
| Art and Craft | Days Celebrations |
| Handicraft | Fruits Day |
| Origami | Animals Day Out Domestic/Pet Animals |
| Colouring | Colour days like Red, Blue, Pink, Orange etc., |
| Drawing | Fancy Dress |
| Rangoli | Flower Decoration |
| Clay Modelling | No Fire Cooking |
| Painting (Sand/Veg/Thread/Wax etc.) | Vegetable Day |
| News Paper Activity | Healthy Eating/Health and Hygiene |
| Best out of Waste | Animals Day Out Wild Animals |
| Card Making | Parents/Grand Parents' Day |
| Doll/Cap/Mask Making | National/International Days Celebrations |
| Diya Decoration | Field Trips/Excursions |