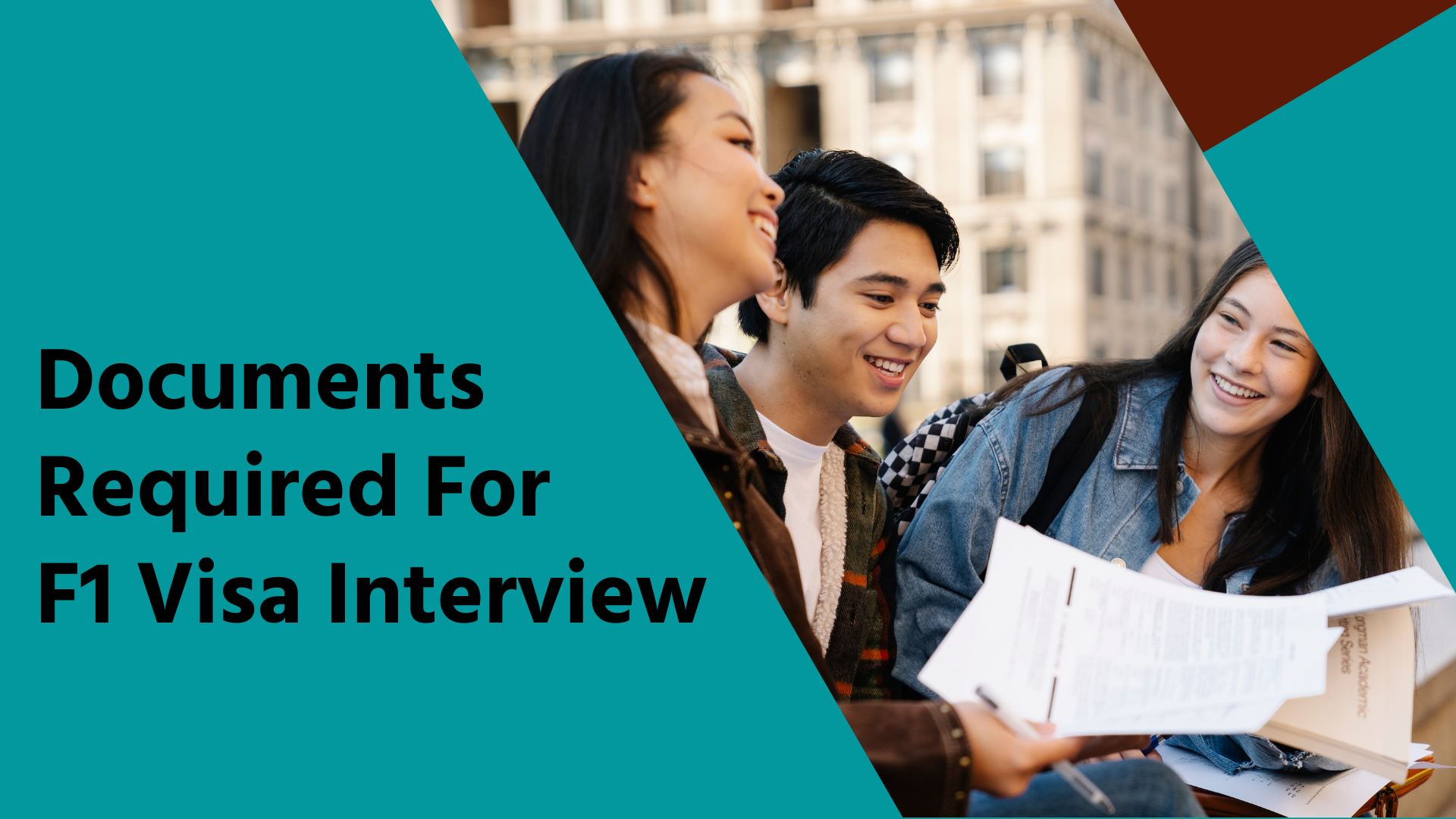 Documents Required For F1 Visa Interview
The F1 Student Visa process is one of the most important steps in the procedure of study abroad programmes. Once you get the offer letter or I-20 from your desired US University, the next step that you are required to take is the visa filing process which involves filling up DS-160, Visa appointment schedule, payment of SEVIS fee and more importantly, sorting out all the documents required for F1 visa before we attend the Visa Interview.
Before we share the documents required for F1 Visa Interview, we would like to remind you that it is very rare that the visa interview officers would ask you to show the documents. But to be on the safe side, it is always advisable to carry all the undermentioned documents to the consulate when you attend the visa interview.
Also see that all the documents are arranged in proper order, folder-wise and easily accessible manner so that you can show or hand over any document without any tension or confusion. 
Documents Required For F1 Visa Interview
Set – I – Visa Documents -1
Original I-20 with Signature and Date

Admit/Offer Letter

Original Passport – (must have 6 months and above validity after the date of arrival in the US)
Set – II – Visa Documents – 2
D.S.160 Confirmation Page (with the bar code clearly visible)

Visa Appointment Letter

Original Axis Bank or Citibank

Visa Application (MRV) Fee Receipt 

SEVIS-I-901 Fee Receipt ($350)

A Passport Photograph (2 x 2 inches /51 x 51 mm)
Set – III – Academic Documents -1
Bachelor's Degree Individual Marks Sheets

Provisional Certificate (PC)

Consolidated Memo of Marks (CMM)

Resume

Certificates of any major activities/projects/awards/research

Letter of Scholarship or any other awards received
Set – IV – Academic Documents -2
10 Class Marks Sheet

Intermediate Marks Sheet
If Diploma
Diploma Individual Marks Sheets

Course Completion Certificate
Set – V – Score Reports
GRE/GMAT/SAT Score Card

IELTS/TOEFL/PTE/Duolingo Score Card
Set – VI – Loan Letter
Education Loan Approval Letter
Set – VII – Financial Documents
Savings Bank Statement for 6 months

ITR Papers for 3 years/Payslips for 6 months

Original Affidavit of Support from your sponsor and co-sponsor

Xerox copy of Property Documents / Valuation of Property done by an Engineer

CA Certification Report
Set – VIII – Other Related Documents
Extra I-20s

Admission Letters 

Experience Letter 

Job Offer Letter

Relieving Letter etc.,
Also, find the following links which will be helpful to you in Visa Processing
1.The SEVIS I-901 fee is a Student and Exchange Visitor Program (SEVP) processing and maintenance charge which is $350. 
Note:
Every international student should be careful enough to choose an institution and programme accredited by the US government's Student and Exchange Visitor Program (SEVP). These SEVP-approved institutions are allowed to enroll students in the Student and Exchange Visitor Information System (SEVIS)
The link to identify the US government's accredited institutions

Click here

  
2. DS-160 Nonimmigrant visa application is the most crucial and important one in the filing of F1 Student Visa process. So fill it up online very carefully. 
3. Pay your non-refundable Visa Application Fee (Machine Readable Visa (MRV) fee) of $160 and Schedule your visa interview: 
The link to register as a new user on the ustraveldocs india website.

Click here
4. For a Passport Photograph official requirements (click here)
5. Visa appointment wait times at US embassies/consulates vary by country and can take several months. 
Biometrics Centres in India:
1.New Delhi
S – 1 American Plaza, (Hotel Eros Managed by Hilton), International Trade Tower
Nehru Place, New Delhi – 110019
2. Chennai
No 3, Cenotaph Road,
Teynampet, Chennai, Tamil Nadu – 600018
3. Kolkata
Jasmine Tower, 31, Shakespeare Sarani (1st Floor)
Kolkata – 700017
4. Hyderabad
1-8-384/385, Gowra Grand, S.P.Road,
Begumpet, Secunderabad – 500003
5. Mumbai
Trade Center, Ground Floor, G Block,
Bandra Kurla Complex,
Bandra East, Mumbai – 400051 
US Embassy and Consulates Address in India:
1.The U.S. Embassy in New Delhi
Shanti Path, ChanakyaPuri 110021.
2. The U.S. Consulate General in Chennai (Madras)
220 Anna Salai, Gemini Circle, 600006.
3. The U.S. Consulate General in Kolkata (Calcutta)
5/1 Ho Chi Minh Sarani, 700071.
4. The U.S. Consulate General in Hyderabad
Paigah Palace, 1-8-323, Chiran Fort Lane, Begumpet, Secunderabad 500003.
5. The U.S. Consulate General in Mumbai (Bombay)
C-49, G-Block, Bandra Kurla Complex, Bandra East, Mumbai 400051.
To find out country-wise locations of the US Embassy, please visit the official website